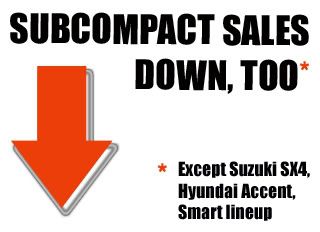 Several companies released their sales figures for March of '09, and yep: Just about everyone's down overall. Here are some subcompact figures, all of which are down for March '09, except Suzuki's SX4, which Suzuki reports being up 50% over March, 2008; Hyundai's Accent, which is up 32.4% in March; and the Smart line which was up 1%.
The big loser is Toyota: Its Scion xD is down 57.6% and the Yaris is down 52.7%.
Kia eeked out the xD for biggest sales decrease among subcompacts with a -57.8% drop in sales for March and -53.7% drop year to date.
| | | | |
| --- | --- | --- | --- |
| | Mar. 09 vs Mar. '08 | Year to date | cars sold in '09 to date |
| Honda Fit | -19.4% | -7.4% | 14,292 |
| Toyota Yaris | -52.7% | -49.6% | 15,107 |
| Scion xD | -57.6% | -51.1% | 2,850 |
| Suzuki SX4 | +50.0% | -3.0% | 7,317 |
| MINI (all) | -15.9% | -16.2% | 3,605 |
| Nissan Versa | -17.8% | -14.0% | 16,780 |
| Kia Rio | -57.8% | -53.7% | 1,483 |
| Hyundai Accent | +32.4% | +25.6% | 5,829 |
| Chevrolet Aveo | -38.1% | -55.8% | 5,444 |
| Smart (all) | +1.0% | +48.0%* | 4,937 |
* Smart sales began January of 2008
LINKS
Toyota Reports March Sales

Nissan North America Announces March Sales
BMW Group U.S. Division Reports March 2009 Sales
American Suzuki March 2009 Sales
American Honda Reports March 2009 Sales
Kia Motors Announces March Sales
Hyundai Motor America Reports March Sales
General Motors' March '09 Deliveries
Daimler AG Reports a 23 Percent Decrease in U.S Sales