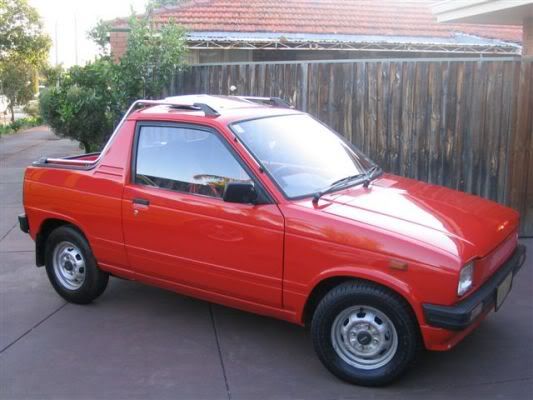 From 1983 though 1988, Suzuki offered a pint-sized pickup called the Mighty Boy. Not to be confused with Mitsubishi's Mighty Max pickup, the Mighty Boy was a kei car sold in Japan, Australia, and naturally ... Cyprus.
What was so Mighty about this car? Not the 28 horsepower from the 543cc engine, nor its 1,168 lb. curb weight. It can't be its payload capacity. So maybe the most mighty thing about this ute was its diminutive size, odd shape, and strange export market of Cyprus.
Like anything else on the planet with four wheels and an engine, the Mighty Boy has a fan base in Australia, they even have a website:
Team MightyBoy
.
Unless you live in the three above-mentioned countries, you'll probably never see a Mighty Boy, but they're mighty neat, and totally strange. Don't forget to check out the
crazily overpowered Mighty Boy video
I posted a while back, too (it's the last one in the post).