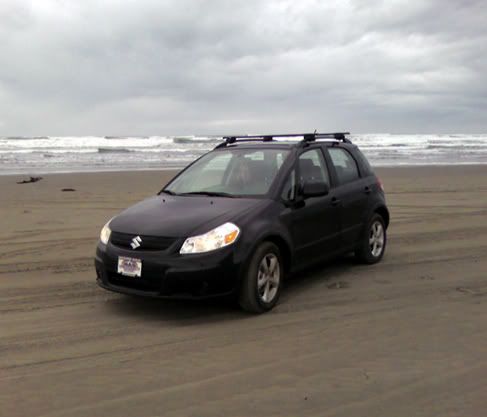 It's been just a bit over a week with our 2009 Suzuki SX4 AWD crossover, and thus far we're very impressed. We've logged about 1,000 miles on the vehicle since we picked it up, and it's seen snow, sand, gravel, and pavement both wet and dry. We're discovering the car's pro and cons, too. Here are a few observations:
All-wheel drive is good.
The SX4 feels very sure footed on a variety of surfaces thanks to the AWD system, which is a three-mode system (FWD, auto, or lock). We had the car in the auto mode while driving up the mountain and the system worked flawlessly and effortlessly on the snow.
The next day we took a trip to the Oregon coast. We crossed the Coast Range mountains which had many gravel-coated highways, and the car felt very sure footed in the auto mode. We also drove along the beach just south of Astoria, OR. Here, I tried out the lock mode which keeps the power distribution evenly split between the front and rear axles. It also worked great; the car really got great traction in the sand.
Reasonable fuel economy, but a tiny tank.
We averaged 22 mpg going up the mountain—this is with four people in the car and a Thule roof rack with skis and two snowboards attached. It's about what we expected. The 2.0-liter engine had decent power going up Mt. Hood, not neck-snapping acceleration, but it did well.
We averaged 27 mpg on our next tank; this was going over the Coast Range mountains, driving about a 70/30 split of highway/city. We were quite impressed. Currently the car's fuel economy display says 26.3 mpg.
The one thing that's a bit annoying is the car's uber-small 11.2 gallon fuel tank. It requires frequent, albeit inexpensive, stops for gasoline. We were down to the second-to-last hash mark on the fuel gauge and put in just a tick over eight gallons. Hmmm ... maybe you can go longer on that amount of fuel then we thought. I doubt we'd be able to get 300 miles on one tank, though.
Enough power
.
With it's 2.0-liter (J20A) engine and five-speed trans, the car drives very well and has decent power. It's no rocket ship, but it's got enough power for safe passing on two-lane roads. Going through mountain passes and such requires downshifts into fourth and third gears, but that was expected.
Limited interior storage
.
The more time we spend in the SX4, the more we realize it's interior does not offer a ton of storage. Maybe I'm just spoiled by my Yaris, which has cubbies everywhere, but the SX4 does not have a lot of places to stash stuff. The rear cargo area is bigger than my Yaris', but unlike my little Toyota, there is no storage in the spare tire area, so things like tire chains, tool kit, and such remain in the cargo area.
Overall: Very happy.

Thus far, we love spending time in the SX4. It has a great ride, is sure-footed, and a hoot to drive. Despite the lack of abundant interior storage and it's puny gas tank, our SX4 has impressed us, especially with its traction on snow, sand, and gravel. And for an AWD vehicle, I'm not going to complain about 27 mpg.
More updates to come!